Please help us raise money for DBHS Choir by working Diamond Bar Bingo. We only need three volunteers total to get our funding for the night! Please click on the sign-up button below!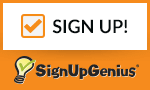 Diamond Bar Bingo is the number 1 fundraiser at Diamond Bar High School. Without Bingo, many of the school sports and performing arts would not be possible if it not for the hundreds of parent volunteers and Booster volunteers who make this bingo a huge success, not only for the school, but for the community.
If you are available on any of our Choir sponsored (Saturday) nights from 4:00 pm to 10:00 pm, please sign up.  Click on the "sign-up genius" button above.