Did You Know?
Only half of our annual choir expenses are covered by tuition, ticket sales, and other sources of revenue. The remaining funding depends upon generous individual donations, corporate contributions, and grants. These gifts help DBHS choir to develop innovative curriculum and unique music education experiences for groups of all ages and abilities.
Concert Help Needed:
We need parents to help at our concerts.
Pease click on the "Concert Sign-Up" button below to see our designated Concert dates and register to volunteer.
We need help with: door ticket sales, flower/concession sales, concession donations, back-stage supervision and flower donations.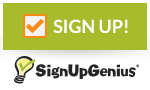 Concert Sign-Up
---
There are other ways to contribute.
Volunteer your time:
Parents are always needed for concert events (e.g. ticket booth, concessions, back-stage parent, stage setup).
---
Volunteer Application Form click here.
---
Volunteer your services:
Handy with a hammer? Please help in the construction of our sets.
Good at administrative work? Look into facilitating an event.
Are you an artist? Help craft our signs and posters.
Please contact Mr. Langham if you can help our choir program. [email protected]