What is a "Shout Out"?
A short, personalized announcement during live performances.
How much are they?
$5.00 per Text Shoutout
$10.00 per Read Aloud Shoutout
How does it work"?
Text Shoutouts are displayed as text on a presentation slide during a show.
Read Aloud Shoutouts are announced by show emcees during a show.
What can we say in a "Shoutout"?
Acknowledge your student (e.g. Great job Monique! Keep singing)
Make a business announcement (e.g. Lunch special Saturday at Mr. G's)
Promote a special event (e.g. Upcoming parking lot sale at DBHS).
How does ordering work?
Upon completing your shout out ticket order, you will receive a follow up email to fill out a form for your shout out message(s).
If you have multiple shout outs to purchase, indicate that in the quantity on the ticket order.
The form for your message will allow you to enter multiple messages if you have purchased more than one shout out.
---
Buy your tickets for your "Shoutout" now:  https://www.dbhspac.org/buy-tickets

---
Please remember to provide us your email address and phone number when ordering.  A form will be emailed to you to personalize your shout out message(s).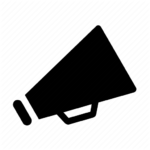 ---
NOTE:  Special shout outs coming in the future.